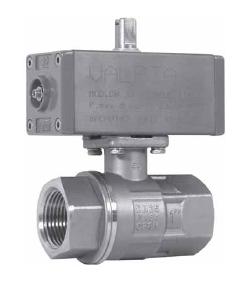 Thread connection is usually used on 2" (50 mm) valves or under, and is not recommended for elevated temperature service. This connection is also used in low maintenance or non-critical applications.
Types of Threads
Threads are according NPT (National Pipe Threads) as American Standard which is the most used in the oil industry or BSP (British Standard), the most common in Europe.
BSP thread can be taper (ISO 7/1 standard or the DIN 2999 and JIS B0203 equivalents) and parallel (ISO 228/1 or DIN ISO 228/1, BSP PL, JIS B0202 equivalents).
Type of End: Male/Female Ends
The thread ends of the valve can be Male (M), external thread like a bolt, or Female (F), internal thread like a nut.
Both ends can be combined on:
• Male-Male (M-M)
• Male to Female (M-F)
• Female-Female (F-F)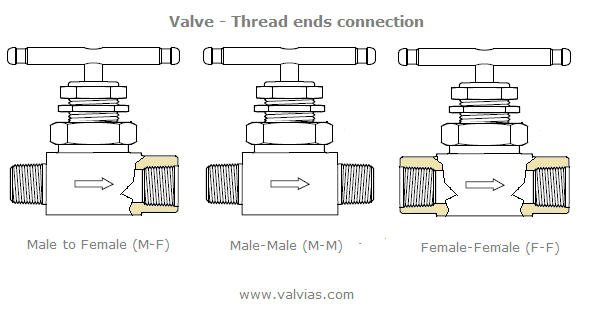 Standards for Thread connections
B16.11 - 2009 Forged Fittings, Socket-Welding and Threaded
This Standard covers ratings, dimensions, tolerances, marking and material requirements for socket-welding and threaded forged fittings. These fittings are designated as Class 2000, 3000, and 6000 for threaded end fittings and Class 3000, 6000, and 9000 for socket-weld end fittings.